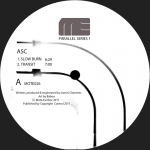 LABEL: Mote Evolver
CAT.NR: MOTE026D
EAN: 5414165045502
REL.DATE: 2011-10-10
GENRE:


TRACKLIST
1. ASC - Slow Burn
2. ASC - Transit
3. L.B. Dub Corp - Lurchers Dub
4. L.B. Dub Corp - Native Dub

INFO
Mote-Evolver continues to push on into uncharted territories of electronic music with the 'Parallel Series 1", the first in a new series where 2 artists are featured side by side - contrasting and complementing. A dedicated producer with over than a decade of experience, British born ASC goes head to head with Luke Slater's rather rare L.B.Dub Corp guise over 4 tracks of vivid new techno.

ASC's textural, earthy and spacious 'Slow Burn' does exactly that. Building from reduced layers of paranoid percussion and hot fragments of sound, he creates a bass heavy world of machine funk that leans pleasingly towards more abstract zones. The somewhat brighter 'Transit' floats on a bed of liquid reverb, punctuated by jittering percussion, digital interference and brooding deep atmospheres. Certainly a trip into the outer limits, ASC's uncompromising sound continues to grow.

L.B.Dub Corp is Luke Slater's alias geared towards dub influenced jams which straddle house, techno and more experimental zones. Heavy on the static, tape delay and freaked-out melodic elements, what comes across initially as a carefully restrained DJ tool in 'Lurcher's Dub', reveals itself to be an inspired fully-electronic jazz jam of sorts. The more grounded 'Native Dub' laces a rubbery bell line amongst carefully placed layers of delay as elements build,
then disintegrate with addictive hypnotism.

www.mote-evolver.com


FEEDBACK
Rolando (Ostgut Ton): native dub is hot!!!!!
Perc (Perc Trax, CLR, Ovum): Very solid EP and great to see ASC on ME. Slow Burn is my favourite but all are really strong. Thanks.
Pfirter (Stroboscopic Artefacts): Loving Native Dub.
Adam X (Traversable Wormhole/CLR): Another tasty Mote Evolver release. Slow Burn is my favorite on this one...others are very nice too. Will play out for sure!
Speedy J (Electric Deluxe): Thanks, will test.
Terence Fixmer (Electric Deluxe): thats nice ep, really like ASC ambiance in 1 and 2,hypnotic.All good there.
Jonas Kopp (Curle): the luke´s versions are outstanding!
Troy Pierce (Items & Things): wow, cool. 3 & 4 are my favorites. interesting tracks.
Samuli Kemppi (Prologue): Wow. Brilliant release. Will play this a lot.
Billy Nasty (Tortured Recordings): lurchers dub's late wierd jazzy vibes are a nice touch.
Slam (Soma Records): love this label - will play thanx
Gary Beck: the native dub corb is nice thanks
Space DJz (The-Zone Records): serious business
Alan Fitzpatrick: Both Dubs are amazing!
Edit-Select (Ostgut Ton/Edit Select): Dubs for me ..
Mark EG (Tilllate Magazine/Core Magazine): Superb Mote music as usual
Gradient Magazine: Love the dubs...
Dustin Zahn (Enemy Records): Both of the LB Dub Corp remixes are nice and heady. Proper mind-fuck techno.
Echologist (Steadfast): massive EP!
Someone Else (Foundsound/Butane + Someone Else): b2 is neat
Jérôme Viale (Tsugi mag): Very Good Ep !
Pär Grindvik (Par Grindvik): great! love the dubs! thanks
Konrad Black: Love this ep...thanks!
Stephan Bodzin (Systematic): slow burn for me
Tim Xavier (Tim Xavier and Camea/Ltd 400/Manmade Mastering/Clink Recordings): I really like the track native, thanks
Derek Plaslaiko (Spectral Sound): Big shock... these are all excellent!!! :) LOVVVVVE it! Thanks!
Timo Maas (Cocoon Recordings): Weird but interesting
Thilo Schneider (Groove Magazine): Good!
Butane (Alphahouse/Butane + Someone Else/Crosstown Rebels): it doesn't get much more exciting in the techno realm than LB Dub Corp and Mote Evolver.