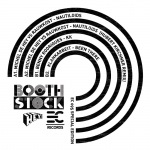 LABEL: EC Records
CAT.NR: EC095D
EAN: 5414165055884
REL.DATE: 2012-09-03
GENRE: House


TRACKLIST
1. Michel De Hey vs Rauwkost - Nautiloids
2. Michel De Hey vs Rauwkost - Nautiloids (Hubert Kirchner Remix)
3. Benny Rodrigues - KK
4. Klankarbeit - Been There

INFO
On Saturday the 11th of August, artists from EC and Hey! Records will join forces at the main stage of Boothstock Festival in Rotterdam, Holland. Warren fellow, Taras van de Voorde, Klankarbeit, Michel Steinbach, Jeff Moore, Jamie Lie A Kwie and of course Michel de Hey himself will all be performing that day. Three of them have delivered a track for this exclusive Boothstock EP.

Klankarbeit has caught the summer vibe after their excellent remix of Nina Kinert. Newcomer Benny Rodrigues serves up a Mr G like groover, which puts up high expectation for his forthcoming Nostalgia EP on EC (with Nic Fanciulli Remixes). Michel de Hey teams up with Rauwkost and they both let all the ladies shake buts, bags and hands to Nautiloids. The remix is done by Hubert Kirchner who won the Boothstock remix competition with this sure shot remix. While Jamie Lie A Kwie and Jeff Moore's recent 'Butt EP' is still in high rotation with Loco Dice, Tanzmann, Squillace, this new EC release promises even more heat for this summer!

FEEDBACK
Early support by Luciano & Pirupa!